Rasmus Ankersen
The High Performance Anthropologist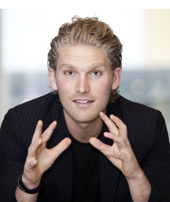 Rasmus Ankersen, alias The High Performance Anthropologist, is the only speaker in the world to have literally lived and trained with the best athletes on earth.
For six months he travelled the globe, to live with the fastest people on earth in Jamaica, to train with the boys of the Brazilian favelas, the infamous shanty towns that produce the world's best football players, and to discover how Korea's female golf machines have taken the world by storm, achieving massive domination of the international golf scene.
Now back in London, Rasmus is teaching companies, organisations and teams how to adopt the mindset and the kind of habits which produce World Class performance.
With his powerful, refreshing style Rasmus challenges our most fundamental beliefs about success, leaving us with new, effective strategies, which he knows will work.
The High Performance Anthropologist walks the talk. He has already published four bestsellers, which have sold more than 35,000 copies in Denmark alone.
In his latest book 'The Gold Mine Effect – Unlocking The Essence of World Class Performance' he presents his surprising conclusions in seven lessons on how anyone - or any business, organisation or team - can defy the many misconceptions of high performance and learn to build their own gold mine of real talent..
Rasmus is a personal coach to several top athletes as well as senior executives.
As a speaker on talent and performance development you'll get: No buzzwords. No crap. No empty theories. Only real-life examples and result driven insights on how to grow world class performance.
"The business world owes Rasmus much gratitude for his facts based, in depth studies of what it truly takes to be, identify and build talent" CEO and President, The LEGO Group
"Management Events has collaborated with Rasmus Ankersen since 2009 using him as a personal development speaker on our conferences for top decision makers from the biggest industries in Denmark. Rasmus has been able to exceed expectations receiving the best speaker evaluations seen in Management Events' six years history in Denmark. In the last two evaluations Rasmus received the highest score possible" Country Manager, Management Events
"Rasmus really understands the DNA of world class performance. From him you don't just get theories, you get concrete tools working in the real world. Rasmus is the ultimate coach." Global Sponsorship Director, Manchester United
"Rasmus is an inspiration for anyone wishing to deliver high performance. His work and ideas are just fascinating and have not only challenged me, but also helped improve the quality of my daily training" Tom Kristensen, 8 times winner of the 24 hours at Le Mans
"The leadership teams really enjoyed the session – and we've already worked with some of the ideas we discussed – among these being our management meetings. You made everyone feel comfortable and equally important. We loved absolutely every minute." Director of Communication, McDonald's
Click here to enquire about Rasmus.
Further Information
For further information or for a copy of our latest speaker booklet please phone one of our consultants whose expert advice will help you find the right personality for your event.