Geoff Cousins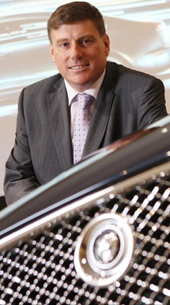 Geoff Cousins is Global Director for Jaguar, responsible for the company's global strategy and for developing relationships that support the world famous brand.
His 28 year career with Jaguar has seen him progress from Manufacturing Cost Financial Analyst when he started with the company back in 1984.
His financial background provided him with a strong foundation for his own development in business, and his career with Jaguar progressed from responsibility for all the financial aspects of the manufacturing operation to financial control of sales and marketing.
As Managing Director of Jaguar UK he was responsible for sales, marketing and dealer franchise operations and for the Jaguar brand's performance in the UK.
He has also had extensive international experience. Prior to Jaguar Cars he was based in California as CFO of the Ford Motor Company's group of premium brands – Jaguar, Land Rover and Volvo – in North America, a $6 billion business. His earlier career with Jaguar also included extensive work in Japan to turn around joint venture losses to a profit of $10m.
As Managing Director of Jaguar Cars he was responsible for a business with a £500m turnover and £55m marketing spend.
More recently Geoff's Global Director role has included developing Jaguar's global strategy in the areas of Sport, Lifestyle and Business Networks including high profile sponsorship e.g. supporting Team Sky Pro Cycling and setting up affinity deals in partnership with Dunhill and luxury concierge brand Quintessentially.
Central to this has been the establishment of the Jaguar Academy of Sport that nurtures and supports potential elite athletes. With internationally-acclaimed sports personalities on board to help mentor and manage the young athletes, the Academy of Sport focuses on personal achievement, optimising performance and delivering results – the very characteristics that have driven Geoff's own successful business career.
As a keynote business speaker Geoff will use a number of brand examples, in lauding Jaguar to illustrate how excellent sponsorship can help significantly improve brand perception
Geoff's skills and experience in making sponsorship (particularly of sport) work in partnership with business means Geoff is a speaker with particular appeal for business audiences.
Click here to enquire about Geoff.
---
Similar Artistes
---
Further Information
For further information or for a copy of our latest speaker booklet please phone one of our consultants whose expert advice will help you find the right personality for your event.