Thalia Pellegrini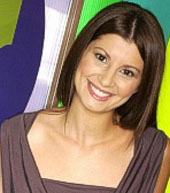 Thalia can currently be seen presenting Fast Track, a travel programme broadcast across the globe for BBC World. Producing and reporting for the channel's flagship travel show, she covers both business travel and leisure stories from all over the world.
Thalia graduated in English from Cambridge University in 1997. She began her career in television as a production runner, developing her skills to become a researcher, then an assistant producer.
Her first on-screen job was as a broadcast journalist for a local cable channel - she directed, reported and produced packages for London and the South East. She also launched her showbiz presenting career around this time, reporting from movie premieres and interviewing stars for film show ACNY.
In 2001 she joined the BBC's long-running children's news programme, Newsround. In 2003, she was asked to step in front of the camera for the programme, becoming the face of the flagship weekend bulletins. She was also a reporter/presenter for the launch of Newsround Showbiz, an entertainment news show, covering film premieres, movie junkets and music award ceremonies.
In 2005 she was asked to join CBBC's flagship kids' consumer show, Short Change. As an investigative journalist she reported on stories as far ranging as the risks of black henna tattoos to mobile phone scams.
More recently Thalia has been a reporter for the BBC's Holiday programme, visiting amongst other places Thailand to report on avian flu and Tanzania to report on so-called "voluntourism".
As well as travelling for work, Thalia loves to travel in her spare time too. Her other interests include nutrition, pilates and fiction-writing.
"The feedback we received on her presentation was unreservedly enthusiastic, and I think she managed to pack a great deal of travel and lifestyle insights into quite a short space of time. Her remarks certainly "hit the spot" for the tourism audience gathered in the room." Failte Ireland - November 2009
Click here to enquire about Thalia.
---
Similar Artistes
---
Further Information
For further information or for a copy of our latest speaker booklet please phone one of our consultants whose expert advice will help you find the right personality for your event.