Dale Winton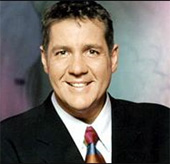 Dale Winton began his career as a DJ on the London club circuit. This led to him working for Adrian Love on the United Biscuits Industrial Radio Station preparing news, making commercials and interviewing for a programme broadcast in factories. Eventually he was given his own morning show. From here Dale went to Radio Trent again hosting the morning show, then to Radio Danube, then to an entertainment show for Radio Chiltern.
In 1986, Dale joined BBC Bristol to present Pet Watch for BBC ONE, then in 1987, he joined CTVC as a producer/presenter to train businessmen and women in radio and TV techniques. Early in 1988 he joined Beacon Radio in Wolverhampton as a producer and presenter on his own mid-morning series, which led to the Dale Winton Show over the next three years. Also in 1988 Dale regularly presented Network 7 for Channel 4, and joined Andy Craig and Fern Britton presenting Home Today on ITV. He began presenting with the satellite channel Lifestyle, and was soon given his own talk show. Other satellite work includes a graphology strand and music reviews for BSkyB, and Anything For Money on Sky One with Andrew O'Connor, in which he was sent out to persuade the unsuspecting public to perform outrageous tasks for a few pounds under the eye of a hidden camera. He was out and about again with Bobby Davro - Public Enemy Number One on BBC1, again asking the public to perform even more elaborate stunts. In 1995, Dale finished a long stint as the presenter of Weekend in the Anglia region.
Dale has appeared as a special guest with the band St. Etienne at The Forum, bringing on a shopping trolley of goodies to throw to the crowd. He also appeared in the video for 'In-betweener' by Britpop band Sleeper.
Other guest appearances include Surprise! Surprise!, Family Fortunes, The Upper Hand, You Bet!, Celebrity Squares, The Steve Wright Show and The Mrs Merton Show. He has also been a regular on That's Showbusiness, displaying his wide knowledge and love of old films and Dusty Springfield. He appeared several times on Noel's House Party, most notably to receive his 'Gotcha'.
Dale's rise to household namedom began with the hugely popular Supermarket Sweep, and continued with The Weekend Show, Pets Win Prizes and Celebrity Fit Club. In a completely different vein, he was seen in a cameo role in the hugely successful film 'Trainspotting'.
Click here to enquire about Dale.
---
Similar Artistes
---
Further Information
For further information or for a copy of our latest speaker booklet please phone one of our consultants whose expert advice will help you find the right personality for your event.