Professor Alan Barrell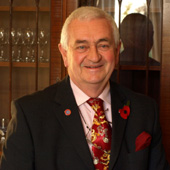 Following a scientific training and six years working in the hospital laboratory service, Alan Barrell has spent almost thirty years in senior executive positions in technology based industries. He worked around the world with Baxter Healthcare, the world's largest Health technology company and was Chief Executive of Baxter UK for six years. Subsequently he switched industries and joined a very small Cambridge Phenomenon company in industrial electronics, Domino Printing Sciences, as Managing Director. Alan stayed six years, during which time Domino grew internationally and was listed on the London Stock Exchange. Today Domino plc has revenues of £200 million plus a market capitalisation approaching £300 million.
Alan's last full time Chief Executive position was six years with Willett International, a manufacturing and marketing company in industrial electronics which now has businesses in 100 countries, 26 overseas subsidiaries and sales of more than £100 million.
Since early 1998 Alan's business life has been spread between non-executive chairmanship of smaller technology companies, engagement with N W Brown Capital Partners in raising a new regional early stage technology venture capital fund of £35 million [The Cambridge Gateway Fund] and work with charities in which he has special interests. These include the Papworth Trust where he is Hon. Treasurer, The Royal Society of Arts Manufactures and Commerce (where he has been Treasurer and member of the Trustee Board) The Centre For Tomorrow's Company of which he was Vice Chairman for four years, and The Princes Trust. He is also closely associated with the Cambridge Enterprise Conference, which has been held six times over the past eight years. He has acted as Chairman of the Steering Committee and Hon. Treasurer.
Raising and investing the Cambridge Gateway Fund was a major effort, and one of the rewards was the election of the Fund, with Alan as Managing Partner as "Investor of the Year" in the Cambridge Evening News Business Excellence Awards 2002.
Alan was appointed Entrepreneur in Residence, University of Cambridge Entrepreneurship Centre and Visiting Professor of Enterprise, University of Luton School of Graduate Business Studies. In 2003 he was appointed Visiting Professor in Entrepreneurship, University of Xiamen, Fujian Province, China. He has also been appointed Chairman of Health Enterprise East - a new organisation supported by the Regional development Agency and the National Health Service - aiming to exploit innovative inventions, processes and procedures within Hospitals and other Health related institutions - for the good of society at large and to enable the Health Service to benefit financially from commercialisation.
In 2005 he was appointed Chairman, Health Enterprise East Ltd. A partnership between East of England development Agency and National Health Service; chairman, Advanced Protein Systems Ltd; appointed Chairman, Medilink East (Medical Devices Industry Association); Awarded the Queen's Award for Enterprise Promotion. One of the first ten recipients of this Award in its inaugural year; appointed Non-Executive Chairman of E-Financial Management Ltd.
Click here to enquire about Alan.
---
Similar Artistes
---
Further Information
For further information or for a copy of our latest speaker booklet please phone one of our consultants whose expert advice will help you find the right personality for your event.