David Gunson
Former Air Traffic Controller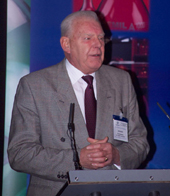 A delightfully entertaining after dinner speaker, David Gunson was born in Sheffield. He originally trained to be a metallurgist before changing direction slightly to join the RAF.
David flew for twelve years in the Royal Air Force doing Search and Rescue and anti-submarine work. He was an air traffic controller at Birmingham Airport for 22 years, until he retired in 1992.
David's after dinner speech, entitled "What goes up doesn't necessarily come down" draws on his time as an air traffic controller and his wide experience of near misses and narrowly averted disasters - always with his tongue firmly in his cheek!
David is a Yorkshireman whose interests include cricket and rugby. He lives in a leafy suburb of Solihull with his wife Doreen and children.
"The whole evening was an outstanding success and David Gunson played a significant part in that success - he was outstanding both as an after dinner speaker and as a table guest." Forticrete on David Gunson who spoke at their annual dinner
Click here to enquire about David.
---
Similar Artistes
---
Further Information
For further information or for a copy of our latest speaker booklet please phone one of our consultants whose expert advice will help you find the right personality for your event.