Penny Mallory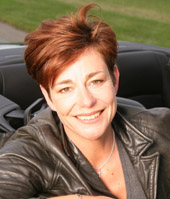 As a former Rally Champion and World Rally Championship competitor, Penny became the first woman ever to compete in a World Rally Car (the equivalent of an off road Formula 1 car).
Penny is an expert automotive broadcaster and has fronted numerous programmes including Channel 4's Driven, ITV's The Used Car Roadshow, and Discovery's Classic Car Show. She reports live for ITV's Daybreak and BBC Breakfast.
In her top selling book 'Take Control Of Your Life' Penny Mallory uses her driving successes as analogies of how you can transform your life. In nine Special Stages she shows you how to identify goals, design strategies and have the mental discipline to achieve them, charting her life from homeless teenager to successful businesswoman.
A highly sought after motivational speaker and conference host Penny also works in schools and prisons to help people get their life on track.

Penny's passion for working with elite sports people to help them 'get their head in the right place' has led to her working with top golfers and racing drivers to significantly improve their mental performance when competing. She is a qualified Sports Psychologist and Performance Coach.
A mother of two she still finds time to set herself a new challenge each year to test her own comfort zone. Last year she completed an expedition to Europe's highest mountain, Mount Elbrus, taking the tough route via the remote north face. She is also a boxer, marathon runner and active supporter of her two chosen charities Barnardo's and Crisis.
"Penny was absolutely fantastic. Her story and message were strong in content and impact and many have said that she gave them a great deal of food for thought. An inspirational and brilliant speaker." Marketing Manager, Kalzip for the 16th Annual Teamkal Conference - November 2011
"Penny was well received by the delegates at our International conference. She was extremely positive and informative and everyone thoroughly enjoyed what she has to say as it left them with many things to ponder on, especially to never give up. On a personal level, Penny was charming and interesting in all our dealings with her". Rotary International
"I really found your story fascinating and I am very inspired by your determination and ambition. The feedback forms were extremely positive and everyone seemed to gain something from the day. You consistently scored 10 out of 10 on the feedback forms, one commented that your talk was the most motivating he had ever heard. Another said it was good to listen to a real story that was both interesting and entertaining." Project Leader, IGD Leading Edge

"We were really pleased with the motivational presentation given to our sales team, she was without doubt the best speaker we have had to date". Life Plus

"Penny was delightful to work with and did a great job of facilitating over our two day conference". Life Insurance Association

"Now I know what 'motivational' speaker means - and you're it! You really helped launch our environmentally friendly vehicles, we were most impressed with your enthusiasm". Head of Environment & Leisure, City of Westminster
Click here to enquire about Penny.
---
Similar Artistes
---
Further Information
For further information or for a copy of our latest speaker booklet please phone one of our consultants whose expert advice will help you find the right personality for your event.