Tessa Sanderson
CBE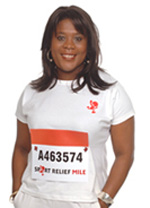 In March 2004 New Year's Honours list Tessa Sanderson was awarded the C.B.E by Her Majesty the Queen, in recognition of her services to sport and Vice Chairman of Sport England the leading strategic organisation for sport in England.
Prior to the CBE she was the recipient of an OBE in December 1997 for her work with various charities and in 1985 was awarded the MBE for winning her Olympic Gold medal for Great Britain in Los Angeles.
In October 2004 Tessa was awarded The Sunday Times Newspaper Lifetime Achievement Award for her dedication to sport.
Tessa holds two Honorary Fellowship Degree one from South Bank University in London in 2004, and prior to this Wolverhampton Polytechnic. She also has a Honorary Masters Degree from Birmingham University. Tessa has competed in SIX Olympic games which in itself is a record which resulted in winning a Gold medal in the javelin event in 1984.
Tessa has also won many other major medals including three times Commonwealth Gold and the last being a World Cup Gold in Cuba in 1990. In the 1992 Barcelona Olympics and competing in her 5th Olympics she finished an incredible 4th place in the final.
During her 26 years competing for Great Britain Tessa was voted Sports Personality of the Year and Athlete of the Year (3 times) by the Athletics Writers Association. In 1988 Tessa presented the Sports News for 2 ½ years for Sky Television. Her media career involves television presenting for the BBC, Bloomberg (Lifestyle programme which was transmitted across the world) and GMTV where she covered the 1996 Olympics from Atlanta.
Other media activities involves working with Talk Sport Radio and other network radio stations in UK.
Having now retired from competitive athletics in 1997, she still remain the only female athlete to win an Olympic throwing gold medal for Great Britain. Tessa continues to work with various Charities such as The Variety Club of Great Britain the largest children's charity in the world, also for Leukemia and is Patron to Jamaica Basic Schools a charity for underprivileged children in Jamaica.
Tessa does a variety of motivational talks and personal appearances all over the United Kingdom and can often be seen appearing on network television discussing various topics.
"The event went really well thank you. Tessa was extremely approachable and had queues of people wanting a photograph with her. Tessa was extremely flexible when the timeframes moved back slightly and had a wonderful relaxed style. We really appreciated the time she took to come along" Santander's 'Be The Best' dinner in London - December 2011
"Thank you for spending your time with both myself before the event proper and for the formal socialising. The feedback from the guests at the reception was very positive and they all enjoyed meeting and talking to you. Your association with the event certainly helped make it into a great success." Lloyds TSB event at the Royal Exchange - November 2011
Click here to enquire about Tessa.
---
Similar Artistes
---
Further Information
For further information or for a copy of our latest speaker booklet please phone one of our consultants whose expert advice will help you find the right personality for your event.