Ardal O`Hanlon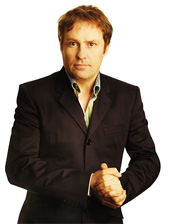 Ardal O'Hanlon was born in 1965 at Carrickmacross, County Monaghan, Ireland, the son of Rory O'Hanlon, a well-known Irish politician and doctor.
He was schooled in Blackrock College in Dublin and graduated in 1987 from the National Institute for Higher Education, Dublin (now Dublin City University) with a Degree in Communications Studies.
Ardal O'Hanlon first found fame as a stand-up comedian, winning the Hackney Empire New Act of the Year competition in 1994. For a while he was the presenter of The Stand Up Show.
He was spotted by Graham Linehan, who was to cast him in Father Ted. In 1995 he appeared (as Father Dougal) in a Channel 4 ident and during Comic Relief on BBC1. This was followed by the more serious Big Bad World and the award winning short comedy film Flying Saucer Rock'n'Roll. He was in the UK version of "Whose Line is it Anyway?"
In 2000 Ardal starred in the comedy series My Hero, in which he played a superhero who juggled his world-saving duties with the crises of suburban living. He stayed in the role until early 2005 and was replaced by James Dreyfus in 2006.
He also provided the voice of the lead character in two Christmas television cartoon specials of Robbie the Reindeer. He appeared in the 2005 BBC1 sitcom Blessed, written by Ben Elton; at the 2005 British Comedy Awards it was publicly slated by Jonathan Ross, albeit in jest. Towards the end of 2005, he played an eccentric Scottish character, Coconut Tam, in The Adventures of Greyfriars Bobby.
He later appeared in the Doctor Who episode "Gridlock" broadcast in 2007, when he played a feline alien named Thomas Kincaid Brannigan.
Beyond the world of television, Ardal O'Hanlon is an accomplished writer and has written a novel, The Talk of the Town (known in the United States as Knick Knack Paddy Whack) published in 1998. The novel is about a teenage boy called Patrick Scully and his friends in strange jobs and with strange aspirations.
Click here to enquire about Ardal.
---
Similar Artistes
---
Further Information
For further information or for a copy of our latest speaker booklet please phone one of our consultants whose expert advice will help you find the right personality for your event.