John Martin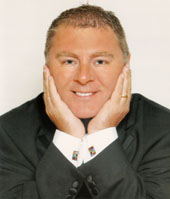 The world of corporate entertainment discovered John's talent early on his career and he is very much in demand for those special company occasions. John's work has included engagements for British Telecom, Ford Motors, Barclays Bank, Natwest, Grant Thornton, Bosch UK, Stakis Hotel Chain, Wentworth Golf Club, The Institute of Directors, P&O Cruises, Chase Manhattan Bank, Planet Hollywood (London) and a special show at the Houses of Parliament.
A journalist once described John as 'almost a human joke factory', which was virtually confirmed in 1993 when he claimed the World Record for Non Stop Joke Telling (101 hours 39 minutes) that earned his rightful place in the Guinness Book of Records. John is an after dinner speaker or cabaret artist of quality.
Click here to enquire about John.
Further Information
For further information or for a copy of our latest speaker booklet please phone one of our consultants whose expert advice will help you find the right personality for your event.