Alan Chambers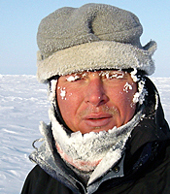 Downloads
Other Links
Alan Chambers led the first successful British team to walk unsupported from Canada to the geographical North Pole. After immense challenges – including the evacuation of two team members – and extreme frostbite and hunger, they raised the Union Flag on top of the world at 23:16 hours on 16th May 2000.
Their walk on the ice lasted a gruelling seventy days. They suffered near starvation and a dwindling fuel supply to cover 500 miles in the worst polar weather in a hundred years. They had done what some said was impossible and it demanded an extraordinary high level of commitment, focus, leadership and teamwork.
Alan was awarded the MBE in the Queen's 2000 New Year's Honours list for his determination and strong leadership and was made a fellow of the Royal Geographical Society.
Born in North Lincolnshire in 1968, Alan joined Royal Marine Commandos in 1985 and continued to serve the Royal Marines for the next sixteen years. He travelled the world, experiencing the most extreme climates – including arctic, desert and jungle. He qualified as a diver, parachutist, paramedic and ski survival instructor.
He spent the winters between 1990 and 1994 in the mountains of north Norway teaching arctic survival and also spent time instructing in the Middle East.
When he left the Royal Marines he focused on delivering inspirational team management and leadership talks to global audiences from business executives, entrepreneurs and non-profit organisations to students at Harvard, the London Business School and Dartmouth (USA).
Besides planning new expeditions of his own, Alan advises other teams on cold climate expeditions. He has also established a business leadership challenge, taking groups across the frozen sea to the Geographic North Pole.
"Alan's amazing story and the remarkable focus he had around the North Pole Trip truly inspired the team in their preparation for the World Cup"
Martin Johnson - Former England Rugby Captain
"Inspirational – He's a genuine hero"
Charles Dunstone, Carphone Warehouse
"Alan Chambers gave us an hours presentation on how he got through an unsupported walk to the North Pole – an amazing journey of endurance, skill & strength. There were parallels to be shared and he told us there would be blips and setbacks along our route. After the first test I remembered what he had said"
Michael Vaughan - England Ashes Captain
Related Artistes