Mike Osman is Donald Trumped!

One of the most respected after dinner performers in Britain with his comedy impressions, stories and auction skills second to none, Mike has now added the President of the United States to his repertoire! With custom made wig, and pitch perfect voice and mannerisms, he really embodies the man himself. Love him or loathe him (Trump that is!), you certainly can't ignore him! And the public love him, mobbing him wherever he goes and always after a selfie!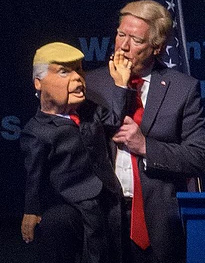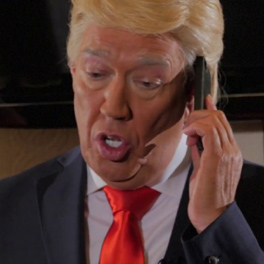 But don't worry, you don't have to put up with Trump all night...Mike's also got a Donald Trump ventriloquist doll, and he gets him to do his other impressions such as Chris Tarrant, Michael Parkinson, Trevor McDonald, Jeremy Paxman, Des Lynam and Dad's Army to name but a few.
Mike built his reputation on the Capital Gold Breakfast Show, building his audience to a staggering 1,700,000 listeners. In that time he achieved three New York World Radio Awards, the Promax Gold Award and the CRCA Newcomer Award, and performed numerous sell-out concert tours.

No stranger to corproate events, he is a regular at dinners and awards ceremonies up and down the country.
"Thank you for entertaining our dinner guests so well last week. You were spot on and everyone loved the surprise!!" IPIA Gala Annual Dinner Awards -November 2017
"The audience's reaction to President Trump was amazing. Mike captured the real essence of the character. The look was totally convincing as was the outrageous rhetoric - and the voice. Wow! That voice. Incredible. The thing that took us all by surprise though was the number of people who wanted selfies with the "great man." I've never seen anything quite like it. They couldn't get enough!" Central Convenience Stores Awards Dinner - January 2017
"Mike's impression of C hris Tarrant is the best impression I've ever witnessed." Sir Tim Rice
"Mike did a good job, the room was certainly with him. This was our first time trying the comedian sharing in the awards and it worked. Our thanks to Mike, he did a good job." Cast Metals Federation Annual Awards Dinner
"I just thought I would let you know how much the guests at our Annual Dinner last night enjoyed Mike. He really went down well and I have heard only positive comments, including the 'best ever'...We would certainly recommend Mike to others." Mike spoke at the BSSA Annual dinner

Mike's an hilarious impressionist and former Capital Gold breakfast host whose Tarrant is the best in the business. His 'Trump' has to be seen to be believed!
Video/Audio Showreels