Paul Rankin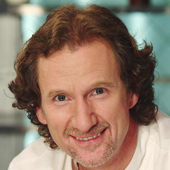 Downloads
Other Links
Paul is best known for being one of the longest standing and most successful chefs on Ready Steady Cook on BBC 2, which regularly had nearly 3 million viewers. Paul has also appeared on Step up to the Plate (BBC 1), Local Food Heroes (UKTV), Saturday Kitchen (BBC 1), Michael Ball Show (ITV 1) and Ten Mile Menu (ITV 1). Paul filmed a series with fellow chef Nick Nairn entitled Paul and Nick's Big Trip. The series saw Paul and Nick travelling around Scotland and Northern Ireland exploring local ingredients and having a great laugh along the way.
Paul has appeared on Celebrity X Factor (ITV 1) as one 'The Chefs'. The group were so popular that they made it to the final stages of the competition. In 2005 he was asked to overhaul the menus at a Belfast Care Home for the elderly and his enthusiasm for this cause has led to him addressing conferences and events for care industry professionals and this in turn triggered a Tonight with Trevor McDonald special programme on the subject for ITV 1 in which Paul was heavily featured.
When not busy in his restaurants and with his television commitments, Paul is furiously writing recipes. He has published several books including Gourmet Ireland (BBC Books), Gourmet Ireland 2 (BBC Books), Ideal Home Cooking (Boxtree), Dublin Dining (Black & White Publishing) and New Irish Cookery (BBC Books).
Paul has been appointed International Ambassador for Bushmills Whiskey and regularly does consultancy work for Sodexo. He has his own range of phenomenally successful Irish breads with Irwins Bakery available in major supermarkets throughout the UK and is expanding the range all the time. It now includes sausages and pies.
Paul has had several of his own series including the BBC1 series Gourmet Ireland - showcasing the best of Irish ingredients plus their own distinctive cookery talents and The Rankin Challenge which won two coveted Glenfiddich awards. Gourmet Ireland was transmitted on the Public Broadcasting Service in the USA and the accompanying book was published by KQED (USA). The series has also been sold to SBS in Australia, TVB in Hong Kong, TVNZ Pacific and TV2 in New Zealand, and to CBET Windsor in Canada.
Related Artistes