Mike Osman is Donald Trumped!

One of the most respected after dinner performers in Britain with his comedy impressions, stories and auction skills second to none, Mike has now added the President of the United States to his repertoire! With custom made wig, and pitch perfect voice and mannerisms, he really embodies the man himself. Love him or loathe him (Trump that is!), you certainly can't ignore him! And the public love him, mobbing him wherever he goes and always after a selfie!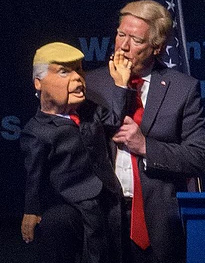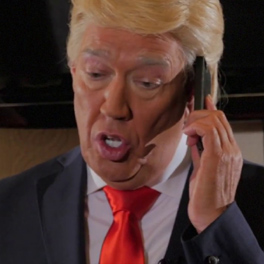 But don't worry, you don't have to put up with Trump all night...Mike's also got a Donald Trump ventriloquist doll, and he gets him to do his other impressions such as Boris Johnson, Jose Mourinho, Nigel Farage, Mickey Flannagan, Gordon Ramsey, Peter Kay, Jamie Oliver, David Dickenson and many, many more!
Mike built his reputation on the Capital Gold Breakfast Show, building his audience to a staggering 1,700,000 listeners. In that time he achieved three New York World Radio Awards, the Promax Gold Award and the CRCA Newcomer Award, and performed numerous sell-out concert tours.

No stranger to corporate events, he is a regular at dinners and awards ceremonies up and down the country.
"Against my own preconceptions about what people would expect and enjoy...Mike delivered a truly unforgettable 35 minutes as Donald Trump. From the moment he entered the room in all his fully wigged, ghastly Trumpishness, the afternoon just flew, with a responsive audience and end to end laughter.
It's a great act, really great...it says a lot about Mike that he was happy to stick around and allow people to continue enjoying his 'performance art'."
Leasing Company Christmas Dinner - Dec 2018.
"From the moment of his hilarious entry to a fantastic end Mike was absolutely superb. His portrayal of Mr Trump was funny, clever and I venture to say unique. Everything he did during his 30 minute performance was top class. The audience were in stitches and the tumultuous applause spoke for itself."
Mike Hymanson MBE Chair of Trustees Destination Florida Children's Charity 2018
"We were all really impressed with your professionalism and commitment to making our important event a real success.You were a very special part of a very special night."
United Pallet Network (UK) Ltd 2018
"Thank you for entertaining our dinner guests so well last week. You were spot on and everyone loved the surprise!!" IPIA Gala Annual Dinner Awards -November 2017
"The audience's reaction to President Trump was amazing. Mike captured the real essence of the character. The look was totally convincing as was the outrageous rhetoric - and the voice. Wow! That voice. Incredible. The thing that took us all by surprise though was the number of people who wanted selfies with the "great man." I've never seen anything quite like it. They couldn't get enough!" Central Convenience Stores Awards Dinner - January 2017
"Mike's impression of Chris Tarrant is the best impression I've ever witnessed." Sir Tim Rice
"Mike did a good job, the room was certainly with him. This was our first time trying the comedian sharing in the awards and it worked. Our thanks to Mike, he did a good job." Cast Metals Federation Annual Awards Dinner
"I just thought I would let you know how much the guests at our Annual Dinner last night enjoyed Mike. He really went down well and I have heard only positive comments, including the 'best ever'...We would certainly recommend Mike to others." Mike spoke at the BSSA Annual dinner

I wanted to let you know that Mike was absolutely fantastic yesterday, he really was so good a true entertainer! I have had an overwhelming amount of positive feedback, our guests loved him! It really worked very well. The level of social media was during and after his performance was crazy!
Personally I found it a pleasure to work with Mike a true pro. He arrived early and stayed afterwards for hundreds of selfies. The whole act was just brilliant! He really read the audience well and I am very pleased with how it all went.
St Albans District Chamber of Commerce Annual Lunch
We were pleased to welcome "Donald Trump" to our recent Annual Lunch and Awards at The Dorchester; his memorable visit added a topical and timely injection of humour and was extremely well received by our guests. It was a pleasure to engage Mike who fully understood the brief and delivered a fitting, professional and on-message performance.
Peter Ward, Chief Executive, UK Warehousing Association
Had a brilliant time watching mike osman live doing his Donald Trump routine last night !! I've seen him before a few times but he just gets better and better!! This time it was hysterical one of the funniest acts in the uk...he had a packed audience of all ages cheering and howling with laughter ..and a standing ovation at the end..mike is just the best....
Chris Tarrant
Mike's an hilarious impressionist and former Capital Gold breakfast host. His "Trump" act has to be seen to be believed, with full wig and makeup and he even has a Trump ventriloquist doll that he gets to do impressions, so you're not just stuck with the orange man!
Video/Audio Showreels